About Cruz Coordination
Cruz Coordination offers experienced, stress-free, partial planning coordination services for all budgets. You've worked hard to plan every detail of your big day, now it's time to put your planning in Cruz Control.
Our goal is to make your wedding day everything you imagined it to be and so much more. We strive to go above and beyond to make your special day relaxed and enjoyable for everyone, from beginning to end. With eight years of experience in the Charleston Event Industry, Cruz Coordination has the knowledge and expertise to turn your event from great to incredible. While always providing you with the highest level of customer service, our genuine love for what we do and our attention to detail will ensure that every piece of the puzzle is in perfect order and that you feel calm and confident knowing that your big day will run flawlessly.
Our service is ideal for the couple that wants to be in control of the planning process but needs a wedding specialist to make it seamless. Let Cruz Coordination take the wheel during the final stage of planning so that you can truly relish in what the festivities are all about – your love, commitment and those that mean the most to you. Sit back, relax and enjoy every minute of your big day knowing that an expert team will properly execute your vision and ensure that you have the unforgettable wedding that you deserve.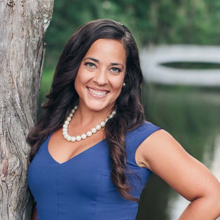 About Jessica
Originally from Charlottesville, Virginia (the State of Love), Jessica visited Charleston, SC several times in her youth. She was instantly drawn to the beauty of the Lowcountry and determined that one day she would call this charming place home. After graduating with a Bachelor of Science in Communications and a concentration in Mediation and Conflict Resolution, she knew it was time to follow her heart.
Jessica began her career at the Charleston Grill in the lovely Charleston Place Hotel. She soon discovered her passion for coordinating events and quickly moved within the company to work for the Catering and Charleston Place Events Department. After several years of organizing both corporate and social events and after learning many different facets of the hotel industry, her passion led her to a place that will always be near and dear to her heart, Magnolia Plantation and Gardens. As the Event Sales and Marketing Manager for 5.5 years she made over 1,000 wedding dreams come true and worked with hundreds of the industries leaders. She was named the "Wedding Ninja" by one of the local wedding blogs for her expert ability to manage multiple events and dozens of vendors at one time. There, amidst the intimate garden pathways of America's last romantic garden and one of the premier wedding venues in Charleston, Cruz Coordination was born.