Kyle and Brent
Jessica is amazing!!! She is everything you could want from a wedding coordinator – kind, smart, organized, creative, patient, very experienced in event planning, and has a great relationship with other wedding vendors! Jessica helped us to realize our vision for the day and have it come to life exactly how we imagined. Everything went flawless, she was very attentive, and she delivers on everything she promises! I would highly recommend Jessica to anyone considering her for their big day! Jessica – Brent and I can't thank you enough for everything!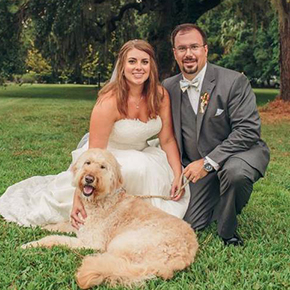 Lily and Roy
Jessica was absolutely wonderful as my daughter's wedding coordinator. She jumped in to help steer us in the right direction with so much of the process, and we would have been lost without her. Her services are well worth the money and peace of mind.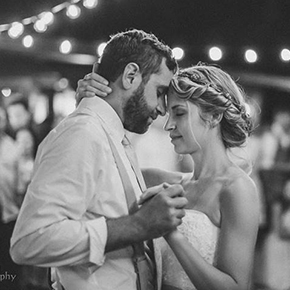 Cassie and Brad
We worked with Jessica Cruz for our wedding in February 2015. Jessica is an exceptionally talented wedding coordinator. From the moment we asked her to coordinate our wedding, she went above and beyond. From responding to millions of emails, to contacting all the venders and making a perfect timeline for the big day! She was extremely organized and well prepared, reminding me of various things that I would have forgotten or never would have thought of in the first place. She was willing and able to suggest her own artistic touches which made our special day so much more beautiful and perfect! On our wedding day she took all of my last minute chaotic notes and put together the most beautiful venue we could have imagined. She was there for every important moment before and after the ceremony. She had snacks waiting for us before we went off for pictures, having our drink of choice ready, handing me a tissue for speeches, having a special surprise waiting in the limo, pulling me aside for makeup touchups after my husband smashed cake on my face, etc. She thought of everything that made the day easier for the people who needed it most (probably the most helpful of which was somehow calming a stressed out mother of the bride). Thank you Jessica, for everything you did for us. You made our special day even more perfect!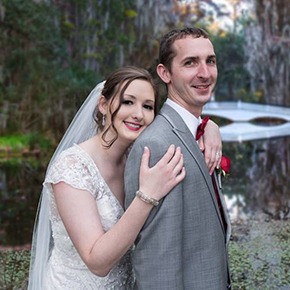 Jennifer and Jim
Jessica was an amazing wedding coordinator! We changed our venue three days before the wedding due to the possibility of inclement weather. Jessica contacted everyone and made all of the changes for us right away. The wedding day ran so smoothly. She took care of everything from set-up to keeping me calm. We certainly could not have done it without her. She is fantastic! Without question, the most incredible wedding! Ms. Jessica Cruz orchestrated perfection. I would recommend her to everyone for wedding coordination. She was a blessing. Thank you SO much! We were blessed to meet you and have you part of our special day. We love you.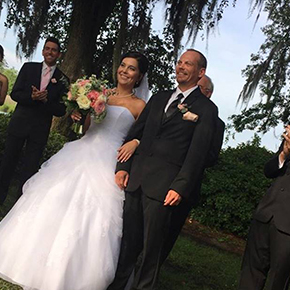 Jodi and Steven
Jessica was fabulous. She was so easy to talk to and so helpful with all the planning for my daughter's wedding at Magnolia Plantation. She brought a high level of experience in handling every detail. The day of the event ran smoothly and exceeded my expectations. Thanks again Cruz Coordination for helping us make wonderful memories!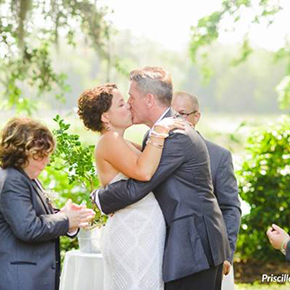 Marley and Zach
The services offered by Cruz Coordination were extremely helpful and much more than I expected. Jessica was knowledgeable, reliable, and responsive. As mother of the bride, I was truly able to enjoy the big day with my daughter, as Cruz Coordination had handled all of the details and made sure that our event was everything that was had hoped for. I highly recommend using their services.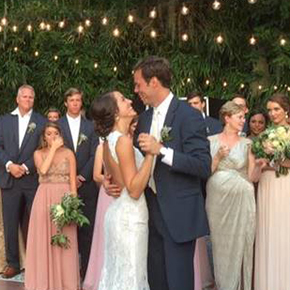 Stephanie and Brad
Jessica was amazing! She really saw her job as making my wedding as smooth and easy as possible for me, and she succeeded by all accounts! My husband and I only had about six months to plan our wedding, but with her help we were able to pull off a beautiful ceremony and reception at Magnolia Plantation. She is very knowledgeable about the vendors and was able to advise us on the best vendors for our venue. Although we hired her for week-of coordination, she was highly responsive to our emails for several months prior to our wedding. As the time drew nearer, Jessica was very proactive about reaching out to the vendors. She knew I had a huge work deadline coming up and did everything possible to lighten the load for me during that time! And thanks in large part to her help, our wedding day went off without a hitch. Even my mom mentioned how impressed she was with how she handled the event. Jessica even drove us around in a golf cart to some off-the-beaten-path spots (in the rain!) to get some of our best shots with the photographer! She really does go above and beyond to make sure that your special day is not only worry-free, but everything you want it to be.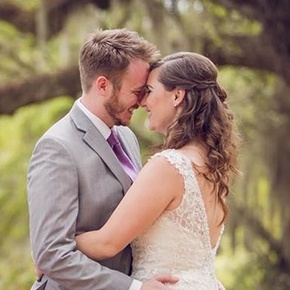 Neda and Mark
When trying to plan my destination wedding, it was hard to coordinate, plan, and basically just do everything. I was referred to Jessica's services and I was very hesitant because I was on a budget and didn't know if it was worth it. IT WAS WORTH IT. She seriously is amazing. She went over and beyond on what she did. If there was something that went wrong during my wedding, I had no idea because she did everything. My wedding was so stress free because of her. I had a friend drop a glass of red wine all on my white dress. But Jessica saved the day and got it all out. Because she is amazing.